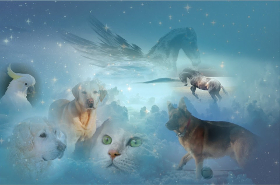 I have a intuitive emphatic connection with animals similar to that shown in the movie "The Horse Whisperer" so Animal Healings come natural to me.
I have been called to work on animals individually or in conjunction with the client's house and land clearing. With Animal Healings, it is important to note that animals are on the second dimensional level so they see the spirits sooner than humans see or are already aware of them. They let their human owners know that their house or land is not safe. They begin to hide, shy away from people, urinate or defecate within the house, become aggressive and / or completely withdrawn. They could also become attached to by the suffering beings who have not crossed over.
When I was walking in a Chicago Suburban, I came upon a dog and petted him. He accepted it willingly. The owner's roommate said how can you do this? He explained that no one but his owner & himself could pet him without the dog becoming aggressive, biting and barking! His owner came out of the store and questioned me as to what was I doing and how did I do it? I had attune with the animal(s) and feel what they are feeling. I work with my Spirit guides, teachers and power animals to assist me in defining what actions to use for their healing. I have worked with dogs, cats, birds, a donkey and many horses on their farms.